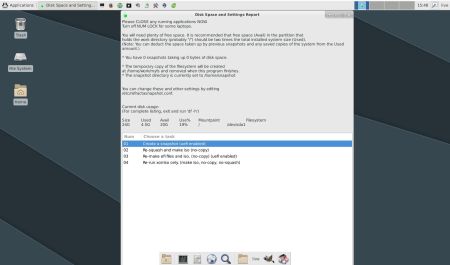 NEWS 161025 about DebEX Xfce4 – a Refracta Build
A new version of DebEX Barebone with Xfce 4.12.1 and kernel 4.8.0-21-exton (equivalent to Kernel.org's stable kernel 4.8) is ready. I have installed Nvidia's proprietary graphics driver 370.28 in this new version of DebEX Barebone. Read about how to use it. All packages have been updated to the latest version as of October 25, 2016. DebEX Barebone is now based on Debian testing – Stretch – (upcoming Debian 9) and Debian unstable – Sid. I have replaced Google Chrome with Tor Browser – it prevents somebody watching your Internet connection from learning what sites you visit, it prevents the sites you visit from learning your physical location, and it lets you access sites which are blocked. Announcement about Xfce 4.12, released 150228: Today, after 2 years and 10 months of work, we are pleased to announce the release of the Xfce desktop 4.12, a new stable version that supersedes Xfce 4.10. This long period can only be explained by how awesome Xfce 4.10 was. But as all things, it needed some refreshing – and for that we saw lots of new contributors providing valuable feedback, features and bugfixes. As always, Xfce follows its steady pace of evolution without revolution that seems to match our users' needs.
Important about Refracta
You can use the Refracta tools (pre-installed in DebEX Xfce4) to create your own installable Debian Stretch Live DVD once you have installed DebEX Xfce4 to hard drive. I mean change everything and then create a whole new Debian Stretch live system. When you start Refracta it will look like this. You don't even have to install DebEX to hard drive before you can use the Refracta tools. If you have plenty of RAM you can create a new (your own!) Debian 9 system while running DebEX from DVD or a USB stick. Please note that the whole Refracta process (creating your new ISO) will only take 5 – 10 min! I have also pre-installed VirtualBox in DebEX Xfce4 so you can test run your own created new Debian Stretch ISO.
New installed packages
I have added VirtualBox, Midori Private Browser, SMPlayer, SMTube (YouTube browser which allows to browse, search and play YouTube videos) and PulseAudio for better sound in YouTube. Study all installed packages.
SCREENSHOTS
Screenshot of the Boot menu in DebEX Xfce4 created with the Refracta tools
Screenshot of the Xfce4 Desktop in DebEX Barebone Xfce4 Build 161025