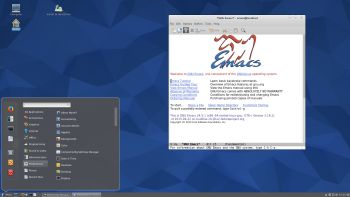 NEWS 150531 re. Exton|Defender fc22 (Fedora 22)
I've made a new version of Exton|Defender 64 bit. Now based on Fedora 22, released 150526. It uses Cinnamon 2.4.8 and kernel 4.0.4.
Unique?
As far as I know there is no other live Fedora 22 cd/dvd out there with the Cinnamon Desktop.
System Tools included
NTFS-3g, GParted, PartImage, Sfdisk (util-linux-ng 2.21.2), Rsync, Ddrescue, FSArchiver, TestDisk and Midnight Commander. Other programs (among many others): Google Chrome (for watching Netflix movies), LibreOffice, NetworkManager, Firefox, Thunderbird, Gimp, Samba, Java (JDK 7u9) and Java Runtime Environment (JRE), Emacs, Safecopy, kernel headers and many compilation tools. See a complete LIST of all installed packages 150531.