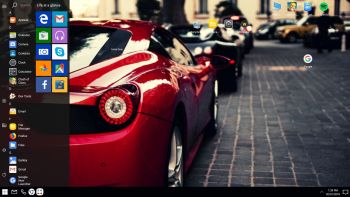 NEWS 180103 about AndEX Oreo 8.1
My new build of Android x86_64 – andex-x86_64-oreo-8.1-gapps-aptoide-windows-1280mb-180103.iso can be installed to hard drive or on a USB stick. You can also run the system live. I.e. from a DVD or a USB stick. On some computers you'll have to start up AndEX 8.1 in compatibility mode (VESA) though. NOTE: You can run AndEX Oreo Build 180103 on newer laptops and Desktop computers. The sound and video performance is generally very very good.
WARNING
Google Play Store doesn't work in AndEX Oreo 8.1 because you can't sign in to Google. Aptoide App Manager is a good replacement though, since Google Play Services work. I.e. you can install Google apps via Aptoide. If you want to install AndEX Oreo 8.1 to hard drive you'll have to do it manually. Please read my INSTRUCTION.
Screenshot – AndEX Build 180103 – the Desktop with Win 10 Launcher for Android 8.1 Oreo

MORE NEWS 180103: AndEX – Oreo 8.1 with kernel 4.9.54-exton-android-x86_64 and GAPPS
My new build of Android-x86_64 Oreo 8.1 have GAPPS pre-installed. I.e. Google Play Services, Google Play Store 8.5.39.W-all, Aptoide App Manager 8.6.02, Google Play Games, Gmail and YouTube 12.45.56. Also many other apps. For example: Spotify 8.4.31.723, File Manager 2.2.0.199, Firefox 57.0.1, Google Chrome 63.0.32, Clash of Clans 9.434.4 and Popcorn Time 2.8.0.2.
Android Oreo 8.1 was released 171205.
What's the point?
Well, if you like your Android phone and all the apps you have installed on it I'm sure you will also like to run apps from your laptop. Bigger screen and better sound etc.Also: In AndEX Oreo Build 180103 almost all apps and games can be installed NOT via Google Play Store, but via Aptoide App Manager. You can even install very big games (of 1GB or so), but unfortunately almost all such games need a touchscreen. Still not convinced? Then read my article about "How useful an Androx-x86 system can be for the average computer user".
Screenshots
Screenshot 1 – AndEX Oreo 8.1 Desktop with Win 10 Launcher
Screenshot 2 – AndEX Oreo 8.1 Desktop with Microsoft Launcher
Screenshot 3 – AndEX Oreo 8.1 – Aptoide App Manager running
Screenshot 4 – AndEX Oreo 8.1 – Boot animation
Screenshot 5 – AndEX Oreo 8.1 – Desktop with Win 10 Launcher
Screenshot 6 – AndEX Oreo 8.1 – AndEX Oreo running Google Maps
Screenshot 7 – AndEX Oreo 8.1 – AndEX Oreo first screen after boot – choose launcher