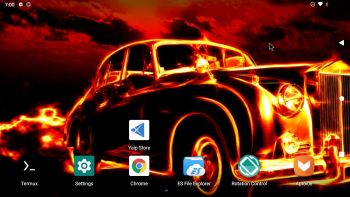 ABOUT RaspAnd Pie 9 – a new extra build 190429
RaspAnd Pie 9 runs very well on a Raspberry Pi 3 Model B and 3 Model B+. I.e. the system is pretty responsive if you use a micro SD card of good quality. RaspAnd Pie Build 190429 has the following apps pre-installed: Google Chrome, Yalp Store, Aptoide App Manager, Aida64, Rotation Control, Evie Launcher, Termux and ES File Explorer. Unfortunately not Google Play Store, but Yalp Store and Aptoide work as good replacements for it.
ABOUT Android Pie 9, which was released 180806…
Differences
My first RaspAnd Pie Build is from 190315. In Build 190429 I've added Yalp Store and replaced Nova Launcher with Evie Launcher.
About Yalp Store
Yalp Store lets you download apps directly from Google Play Store as apk files. It can search for updates of installed apps and lets you search for other apps. The point of Yalp Store is to be small and independent from Google Services Framework. By default Yalp Store connects to Google services using a built-in account, so you do not have to own a Google account to use it. The only reason to use a live Google account is to access the paid apps you own or leave reviews. So Yalp Store works as a pretty good replacement for Google Play Store. I think.
About Evie Launcher
Read a complete review of Evie Launcher…
Evie Launcher works very well in RaspAnd Pie.
SCREENSHOTS
1. The new Desktop using Evie Launcher in Build 190429
2. Using Yalp Store in Build 190429 to find utilities
3. Using Yalp Store to find games