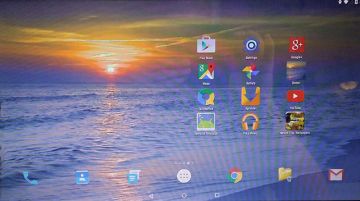 NEWS 150505 about AndEX – The Ultimate Edition
My new build of Android-x86 Lollipop 5.0.2 has GAPPS pre-installed. I.e. Google Play Services, Google Play Store, Google+, Maps, YouTube and more apps. The ISO is called android-x86-5.0.2-lollipop-GAPPS-exton-782mb-150505.iso. I call it The Ultimate Edition because AndEX 150505 is (almost) error-free. I finally managed to install Google Play Services, which is needed for Google Play Store to run. You shall always use Google Play Store in AndEX version 150505. Only use Aptoide App Manager (which is also pre-installed) if you can't find the app you are searching for in Google Play Store.
Unique?
As far as I know there is no other Android-x86 Lollipop 5.0.2 version out there with GAPPS pre-installed.
View the boot process >> SLIDESHOW

About AndEX
My compiled Android–x86 system (Lollipop 5.0.2) can run live (from CD or a USB stick) or be installed on almost all laptops (and some Desktop computers). For example Acer (Aspire), HP, Samsung, Dell, Toshiba, Lenovo, Thinkpad, Fujitsu, Panasonic and Ausus laptops. The Android system is distributed in the form of an ISO file as the rest of my Linux distributions. I.e. you must (as usual) burn the ISO file to a CD (DVD) if you want to run the system live on your computer or install it to hard drive. Read about how to burn ISO files. Or skip that. Just use ImgBurn. Nothing can go wrong.
Replacement
This Ultimate Edition of AndEX replaces version 150426, which also had GAPPS pre-installed.