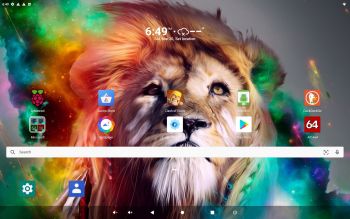 ABOUT RaspAnd 11 – Build 210321 – with GAPPS
RaspAnd 11 runs very well on a Raspberry Pi 4. I.e. the system is pretty responsive if you use a micro SD card of good quality. RaspAnd 11 has the following apps pre-installed: GAPPS (Google Play Store and other Google apps), Netflix, Spotify, Midori Browser, Aurora Store, Clash of Clans and AIDA64.
ABOUT Android 11, which was released 200908…
PLEASE NOTE that you must be aware of the fact that the Raspberry Pi 4 computer has its limitations and that Android 11 is a very advanced Linux system. Having said that I must also say that the apps I have included in this Build (see above) work very well. The max screen resolution is 1680×1050. With higher resolutions Netflix won't work.
NOTE also that you'll have to register "your device" (i.e. your Rpi4) before you can log in to Google Play Store. Please read my instructions at the INFO site about how to register so that your device will be Play Protect Certified.
About Raspberry Pi 4
This build (RaspAnd 11 210321) works very well on the new Raspberry Pi 4. I used the latest model with 8GB RAM, but you can of course use the other models too.
SCREENSHOTS
1. The Desktop with GAPPS, Netflix and Spotify pre-installed
2. The Desktop using Microsoft Launcher – not pre-installed
3. The Desktop using Galaxy 21 Launcher – not pre-installed
4. Asphalt 9 running – not preinstalled
5. Google Play Store running
6. Netflix running
7. Spotify running
8. Running Hunting Clash – not pre-installed
9. The Desktop using Computer Launcher – not pre-installed

Read about my Android-x86 Systems – 10, Pie, Oreo, Nougat, Marshmallow, Lollipop and KitKat at

andex.exton.net – latest is AndEX 10 (with GAPPS) and AndEX Pie 9.0 (also with GAPPS)!

and
about my Android 11, 10, Pie, Oreo, Nougat, Marshmallow and Lollipop versions for Raspberry Pi 4 and 3/2 at

raspex.exton.se – latest is RaspAnd 11 (with GAPPS) and RaspAnd Oreo 8.1 (also with GAPPS)!