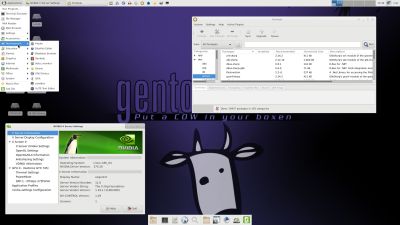 NEWS 20170303 about exGENT
I've made yet a new version (20170303) of exGENT based on Gentoo Linux. Now with Xfce 4.12.1 and kernel 4.10.1. It is for the 64 bit architecture. I call it exGENT 2017 Xfce4 Live DVD. It replaces version 20170209. The ISO file is of 2760 MB due to the fact that this version has a lot of packages pre-installed. Despite this exGENT version 170303 runs surprisingly fast from DVD or USB. Even in VirtualBox and VMware. Faster than most other Linux live systems. All installed packages in exGENT have been updated to the latest available version by 170303.
What's new in exGENT Build 170303?
The boot loader Grub Legacy has been replaced by Grub2. I started this build in the hope that I should be able to implement a new independent installer program called Calamares. I wasn't able to do it now though. (Many dependencies to satisfy). My old installer script will have to do until I find a solution. Anyway, I think exGENT Build 170303 can be of interest because of the change to Grub2 and the fact that it has the newest kernel installed.
Used KERNEL
My special kernel 4.10.1-gentoo-exton corresponding Kernel.org's kernel 4.10.1. It's the latest stable kernel as of now. (20170303).
Programs etc
The best thing with exGENT is the premier auto detection of hardware and the ability to easily install the system to hard drive during a live session. Installed programs: Among many others GParted, GNU Emacs, Firefox, Google Chrome, Vlc, Spotify, Thunderbird, Samba, AbiWord, Nvidia Graphics driver 378.09 and NetworkManager. Furthermore compilation tools so that you can install programs from source the Gentoo way. (After the installation to hard drive).
Quick install to Hard Drive
exGENT Linux can be installed to hard drive in 3 – 10 min. (Depending on computer type). This means that all of you who might hesitate to perform a normal Gentoo installation – which can take up to a couple of days – now have the chance to get this great Linux system (Gentoo) installed on your computers very easy.
SPOTIFY
You can easy and quick install Spotify in exGENT. Just run the command emerge spotify. The installation takes about 1 min.
NOTE: Spotify is pre-installed in Build 170303.
Google Chrome
To be able to run Netflix in exGENT you'll need Google Chrome. Just install it with the command emerge –ask www-client/google-chrome
Screenshot 1
Screenshot 2
Screenshot 3 – Netflix is running
NOTE: Google Chrome is pre-installed in Build 170303.
Who is exGENT/Gentoo for?
Experienced Linux users or those who really want to learn Linux. (Perhaps also for people who are bored with mainstream distributions like Ubuntu).
Screenshots
exGENT running Nvidia config
exGENT running Brasero
exGENT running Samba
exGENT running Spotify
exGENT running in VirtualBox
exGENT running in VMware
exGENT running Google Chrome and Netflix