ABOUT RaspEX OS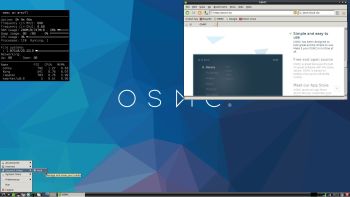 MC
RaspEX OSMC Build 181223 is made especially for the new Raspberry Pi 3 Model B+, but can of course also be used on a Raspberry Pi 3 Model B and a Raspberry Pi 2 Model B. OSMC is based on Debian and Kodi Media Center. In RaspEX OSMC I've added the LXDE Desktop with many useful applications such as Wicd and NetworkManager. Makes it easy to configure your wireless network. I've also upgraded OSMC to a BETA version (Kodi 18 Leia), which makes it possible to include useful addons such as Netflix, Plex and Amazon Video. Which I've done. Study all included packages in RaspEX OSMC.
About OSMC (short for Open Source Media Center) and the difference between RaspEX OSMC and OSMC original
OSMC is based on Debian and Kodi Media Center. It is an embedded, minimal, self updating Linux distributing which ships a Kodi front-end for a variety of devices. The project was founded by Sam Nazarko in 2014 and is maintained by a group of volunteers in their spare time. OSMC can be downloaded for free for all supported platforms on their official Download page. So OSMC has no real Linux Desktop. After the boot process and some configurations are ready you will end up directly in Kodi. Running RaspEX OSMC you will immediately end up at LightDM's login page – see below how it will look. From there you can log in to the LXDE Desktop as the ordinary user osmc or as root. Passwords: osmc/root. As user osmc you can alternatively log in directly to Kodi 18. After the first boot you should, however, chose to log in to the LXDE Desktop and use Wicd and/or NetworkManager for configuring your network connection. The big difference between OSMC and RaspEX OSMC is that Kodi 18 Leia is pre-installed in RaspEX OSMC together with some really useful addons (Netflix, Plex and Amazon Video). Those addons need Widevine to run. While you are logged in to the LXDE Desktop you can use Synaptic Package Manager to install all extra packages you may need. Since OSMC/RaspEX OSMC is based on Debian you'll have about 30000 packages to chose between.
RaspEX OSMC performance
RaspEX OSMC is a very fast and responsive Rpi system. Much due to very low memory (RAM) usage. About 100 MB as this screenshot shows. I've said that RaspEX LXDE Build 181015 is very fast. RaspEX OSMC is even faster especially if you use the new Raspberry Pi 3 Model B+ to run it. The video and sound quality is also very very good. Even while running RaspEX OSMC on big TV screens. I.e. you can really enjoy Netflix and YouTube running on your Rpi mini computer!
SCREENSHOTS
1. Running Kodi – animated gif
2. The LXDE Desktop logged in as osmc
3. The LXDE Desktop logged in as root
4. Wicd running before entering Kodi
5. Netflix running showing very good video quality – 1
6. Netflix running showing very good video quality – 2
7. YouTube running showing very good video quality
8. Choosing video addons in Kodi