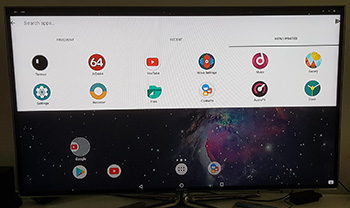 NEWS 180707: My build of RaspAnd Oreo 8.1 is ready. It's the first RaspAnd build with Android Oreo 8.1. All installed apps (including Google Play Services and Google Play Store) have been updated to the latest available version by 180707. Read about all other included apps below. While downloading RaspAnd Oreo 8.1 Build 180707 you will also get RaspAnd Nougat 7.1.2 Build 180529, which works much better than RaspAnd Oreo 8.1.

RaspAnd Oreo 8.1 Build 180707 can be used with the official Raspberry Pi 7 inch touchscreen and Big TV Screens
Thanks to a member on this site who asked for support for the Raspberry Pi official 7 inch touchscreen I started to experiment with different configurations. Success!
Experimental Build
Build 180707 of RaspAnd can be downloaded for free by those who have purchased RaspAnd Nougat 7.1.2 Build 180529 (and previous versions of RaspAnd 7.1.2). That's because RaspAnd Oreo 8.1 can be considered as "experimental". It doesn't work as good as RaspAnd Nougat. Fewer monitors/TV screens can be used and the performance is slower. You must be aware of the fact that the Raspberry Pi 3 computer has its limitations and that Android Oreo 8.1 is a very advanced Linux system.

MORE ABOUT RaspAnd Oreo
RaspAnd Oreo 8.1 Build 180707 is an Android 8.1 Oreo system which can run on Raspberry Pi 3 Model B. RaspAnd can not yet run on a Raspberry Pi 3 Model B+. I have included the following apps.
1) GAPPS (Google Play Services with Google Play Store) in latest versions.
2) Spotify is not installed. Install version 4.6 via Google Play Store. It works very well!
3) Google Play Games (needed for for example Clash of Clans to run)
4) TeamViewer – control other computers from your Rpi3!
5) Jelly Browser
6) Aptoide TV (for installing new apps which can't be found on Google Play Store – many many apps can be installed!)
7) ES File Explorer 4.1.7.2 working very well
8) AIDA64
9) Termux 0.60 – a very special terminal. (Use the APT package manager!)
10) Quick Reboot Pro 1.8.4
11) YouTube – unfortunately not all videos will run.
ABOUT Android 8.1
Version 8.1 is the latest Android system by now. Released on December 5, 2017.
SCREENSHOTS
RaspAnd Oreo's boot animation
Slideshow – showing RaspAnd's boot procedure (for RaspAnd Nougat, but…)
Screenshot 2 – RaspAnd's Desktop
Screenshot 3 – showing all installed apps
Screenshot 4 – Google Play Store running
Screenshot 5 – Spotify running
Screenshot 6 – TeamViewer running and controlling my PC
Screenshot 7 – Developer options

KNOWN ISSUES re. RaspAnd Build 180707
1. Not all apps will run in RaspAnd Oreo. You can for example run the popular (?) Clash of Clans very well, but not Angry Birds. Many many apps will run without problems though.
2. You can't run Netflix.
3. Bluetooth doesn't work.
4. RaspAnd Oreo can not yet run on a Raspberry Pi 3 Model B+.