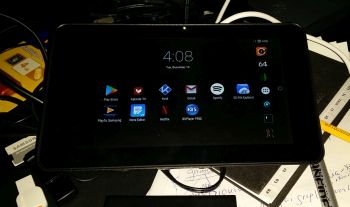 NEWS about RaspAnd 7.1.2 Build 171220/171215
Thanks to a member on this site who asked for support for the Raspberry Pi official 7 inch touchscreen I started to experiment with different configurations. Success! The changes are so good that I've decided to uploaded a new version of RaspAnd today. Note: The display size have changed from 1280×720 to 1920×1080, which means that RaspAnd will look better also when using Big TV screens. Screenshot when a Samsung 55 inch TV is used as monitor. In Build 171220 I've also included the app Quick Reboot Pro (so you don't have to use the power switch).
Build 171220 of RaspAnd can be downloaded by those who have purchased Build 171215 (and previous versions of RaspAnd 7.1.2).
SCREENSHOTS
Screenshot 1 – The Desktop when the Raspberry Pi official 7 inch touchscreen is used (RaspAnd Build 171220)
Screenshot 2 – Running YouTube in the Jelly Browser when the touchscreen is used (RaspAnd Build 171220)
Screenshot 3 – The Desktop when a Samsung 55″ TV is used as monitor (RaspAnd Build 171220)