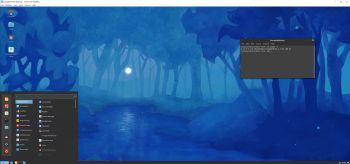 Exton|Defender SRS is a Linux system available as a Live DVD based on Fedora Rawhide, 64bit. (Rawhide is the development version of Fedora). Exton|Defender is for administrating or repairing your system and data after a crash. Exton|Defender aims to provide an easy way to carry out admin tasks on your computer, such as creating and editing the hard disk partitions. It comes with a lot of Linux software such as system tools and basic tools (editors, Midnight Commander, network tools). Exton|Defender can, however, also be used as a normal Linux Desktop System. It requires no hard drive installation, but can easily be installed to hard drive if you want. Desktop environment: Cinnamon 4.8.6. Since Fedora 34 was released 210427 this version of Exton|Defender can be seen as a "test" release. At first I was thinking of making a remaster of Fedora 34 with Cinnamon. Then I discovered that you can download an "official" Fedora 34 ISO with Cinnamon. You can also download some Rawhide "spins". No one with the Cinnamon Desktop Environment though (as far as I know).

System Tools included
NTFS-3g, GParted, PartImage, Shred, Sfdisk (util-linux-ng), Rsync, Ddrescue, FSArchiver, TestDisk and Midnight Commander. Other programs (among many others): NetworkManager, Firefox, Parole Media Player, Samba, Java and Java Runtime Environment (JRE), Emacs, Safecopy, kernel headers and many compilation tools. See a complete LIST of all installed packages – Version 210504 (Fedora 35).

Installation to a USB stick in Fedora or Ubuntu – with persistence!
Read about how to perform such an installation on the INFO site. IMPORTANT NOTE: Since this Defender Build is based on an unstable version of Fedora I must strongly discourage you from installing Exton|Defender on a computer where you already have other Linux systems (and perhaps Windows installed). You may mess up your current (working) boot loader. So if you want persistence install Exton|Defender to a USB stick the way I describe on the INFO site. It is a much safer alternative!

THE IMPORTANCE OF Exton|Defender being based on upcoming Fedora 35
Programs won't "crash" or anything like that. And I haven't noticed any "bugs". That said you should of course be a bit careful. This version of Exton|Defender is for people who like to use "cutting-edge" software and the latest kernels etc. You will always have the latest Linux/Fedora software installed if you regularly run the command sudo dnf upgrade –refresh.
SCREENSHOTS
Screenshot 1 – Exton|Defender´s Cinnamon 4.8.6 Desktop – running in full screen in VirtualBox
Screenshot 2 – Anaconda (Fedora's Installer) has started – Notice the warning!
Screenshot 3 – Netflix is running
Screenshot 4 – Parole Media Player is running

Read about my Android-x86 Systems – 10, Pie, Oreo, Nougat, Marshmallow, Lollipop and KitKat at

andex.exton.net – latest is AndEX 10 (with GAPPS) and AndEX Pie 9.0 (also with GAPPS)!

and
about my Android 11, 10, Pie, Oreo, Nougat, Marshmallow and Lollipop versions for Raspberry Pi 4 and 3/2 at

raspex.exton.se – latest is RaspAnd 11 (with GAPPS) and RaspAnd Oreo 8.1 (also with GAPPS)!