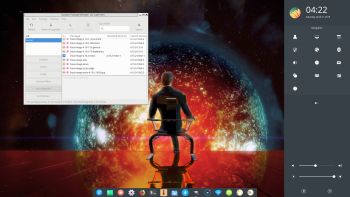 NEWS about ExTiX 18.4-2 Deepin 180421
I've released a new version of ExTIX 18.4-2 Deepin today with Calamares 3.1.12 and kernel 4.16.2-exton. Calamares is an installer framework. By design it is very customizable, in order to satisfy a wide variety of needs and use cases. All packages have been updated to the latest available version as of today. Study all installed packages in ExTiX Deepin Build 180421.
About ExTiX 18.4-2 with the Deepin 15.5 Desktop
I've made a new extra version of ExTiX with Deepin 15.5 Desktop (made in China!). Deepin is devoted to providing a beautiful, easy to use, safe and reliable system for global users. Only a minimum of packages are installed in ExTiX Deepin. You can of course install all packages you want. Even while running ExTiX Deepin live. I.e. from a DVD or USB stick. Study all installed packages in ExTiX Deepin.
ABOUT ExTiX
All five ExTiX systems are based on Ubuntu and Debian.
The Ultimate Linux System
I've called my different versions of ExTiX The Ultimate Linux System for many years by now. As regards ExTiX 18.4-2 Deepin I feel it's especially justified. Everything just works.
Refracta Tools
While running ExTiX Deepin 18.4-2 live or from hard drive you can use Refracta Tools (pre-installed) to create your own live installable Ubuntu system. A ten year child can do it!
THE IMPORTANCE of ExTiX LXQt now being based on Ubuntu 18.04 (UNSTABLE/DEVELOPMENT)
I don't think it is too important since ExTiX Deepin doesn't use complicated Desktop Environments like KDE, Gnome or Unity. Programs won't crash or anything like that. And I haven't discovered any bugs to report. Besides the FinalFreeze of upcoming Ubuntu 18.04 was already at April 19, 2018.
SCREENSHOTS
1. ExTiX Deepin 15.5 Desktop
2. ExTiX Deepin being installed in VirtualBox using Refracta Installer
3. ExTiX Deepin running Refracta snapshot
4. ExTiX Deepin running in VMware
5. ExTiX Deepin running the Refracta Installer
6. ExTiX Deepin login screen (LightDM)