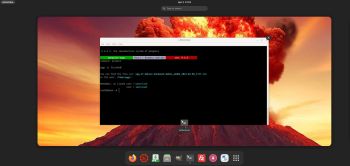 NEWS 230411 ABOUT DebEX Gnome/Enlightenment
This DebEX version replaces version 211215, which also had the Budgie Desktop as DE. However Budgie seems incompatible with Debian 12 (Sid) right now, so I had to remove it.
Debian 12 (Sid/upcoming Bookworm) is still supposed to be unstable, but the "full hard freeze" took place already 230312.
So this new version of DebEX is based on Debian Sid (unstable) with Gnome 43.4, Enlightenment 0.25.4 and kernel 6.3.0-rc4-amd64-exton. All packages have been updated to the latest version as of April 11, 2023.
ABOUT penguins-eggs
My other DebEX builds are created with Refracta Snapshot. So is the new DebEX version of 230411. But it is also possible to create a new DebEX (Debian 12) system with a remaster tool called penguins-eggs, which is pre-installed in version 230411. Very easy to handle. Penguins-eggs is a console utility, in active development, who let you to remaster your system and redistribute it as iso images or from the lan via PXE remote boot. Penguins-eggs is developed by Piero Proietti. It is based on Remastersys, Refracta, Systemback and father Knoppix.
How-to use penguins-eggs
1. Install DebEX (or any other Debian/Ubuntu based system) to hard drive
2. Change everything to your liking
3. Open up a terminal and run the command sudo eggs dad -c
Screenshot 1 – NOTE: If you choose fast your new ISO will be ready in about five minutes (even in VirtualBox). If you choose max it will take about two hours (in VirtualBox), but the ISO will be about 500 MB smaller.. A smaller ISO has one disadvantage. It doesn't boot as fast as the one built using the option fast.
4. Go on choosing Yes
Screenshot 2
5. Go on choosing Yes
Screenshot 3
6. Go on choosing Yes
Screenshot 4
7. You new ISO is ready!
Screenshot 5
NOTE: You can remaster DebEX in VirtualBox or VMware if you want. VirtualBox Guest Additions are pre-installed so you can run DebEX in full screen in VirtualBox. Watch this screenshot.
SCREENSHOTS
1. A WiFi connection in Gnome
2. Penguins-egg running
3. Calamares Installer started in Enlightenment

Read about my Android-x86 Systems – 11, 10, Pie, Oreo, Nougat, Marshmallow, Lollipop and KitKat at
andex.exton.net – latest is AndEX 11 (with GAPPS), AndEX 10 (with GAPPS) and AndEX Pie 9.0 (also with GAPPS)!
and
about my Android 12, 11, 10, Pie, Oreo, Nougat, Marshmallow and Lollipop versions for Raspberry Pi 4 and 3/2 at
raspex.exton.se – latest is RaspAnd 12 (without GAPPS), RaspAnd 11 (with GAPPS) and RaspAnd Oreo 8.1 (also with GAPPS)!