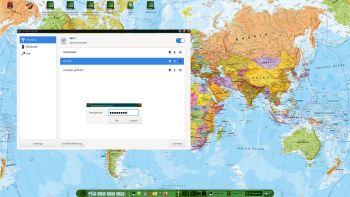 NEWS 210125 ABOUT ExLight
I've made a new version of ExLight with the Enlightenment 0.24.2 Desktop environment, Refracta Snapshot (create your own Debian Bullseye System), Nvidia Graphics Driver 455.45.01 and Calamares 3.2.35-1 Installer Framework. The very nice Enlightenment theme R-Matrix-2.0 is used. It will be used also after a hard drive installation.

New sources 210125
This new version of ExLight is based on Debian testing 11 Bullseye. Build 210125 is a total rebuild of ExLight. The ISO file size is of only 1440 MB, which means that ExLight now can run even faster from RAM. I.e. load to RAM – screenshot. You can remove the DVD or USB stick when ExLight has booted – watch this screenshot.

KERNEL
ExLight Build 210125 uses kernel 5.10.10-exton, corresponding Kernel.org's latest stable kernel 5.10.10.
What's new in kernel 5.10 LTS? – The most exciting kernel in years!
THE REAL McCoy
ExLight is a pure Debian system. I.e. no traces of Ubuntu, Kubuntu etc. New releases of Ubuntu are always based on Debian. So is ExLight.
SCREENSHOTS
1. The Enlightenment 0.24.2 Desktop for user user
2. The Enlightenment 0.24.2 Desktop for the ordinary root running Calamares
3. Connection from ExLight to a Windows computer using Samba
4. Using ConnMan for WiFi connections
5. Running ExLight from RAM
6. Refracta Snapshot has started

Read about my Android-x86 Systems – 10, Pie, Oreo, Nougat, Marshmallow, Lollipop and KitKat at

andex.exton.net – latest is AndEX 10 (with GAPPS) and AndEX Pie 9.0 (also with GAPPS)!

and
about my Android 11, 10, Pie, Oreo, Nougat, Marshmallow and Lollipop versions for Raspberry Pi 4 and 3/2 at

raspex.exton.se – latest is RaspAnd 11 (without GAPPS) and RaspAnd Oreo 8.1 (with GAPPS)!