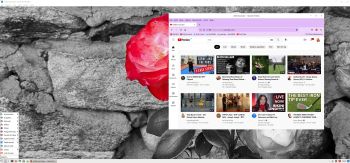 NEWS ABOUT ArchEX 220905
Today I discovered that I had forgot to add "cowspace" (sudo mount -o remount,size=2G /run/archiso/cowspace) in ArchEX Build 220901. I therefore had to upload a new ArchEX version today (220905). This version uses kernel 5.19.6 and has more support for various wireless cards.

NEWS about ArchEX 220901
A new version of ArchEX is ready! In this new version, which I call ArchEX 2022, I have added the Deepin 20.7 (latest) Desktop Environment (DE). Deepin DE (made in China!) is devoted to providing a beautiful, easy to use, safe and reliable system for global users. I came to like Deepin DE very much when I installed it in ExTiX 22.6. So I thought why not install Deepin DE also in ArchEX? Furthermore I have added the GNOME 42 (latest) and LXQt 1.1.0-1 (latest) Desktop environments. As "extra" Desktop environments I've added Gnome Classic and LXDE. So altogether five (5) different Desktops environments to try out while running ArchEX live or from hard drive! Note that you can run ArchEX in full screen in VirtualBox directly from the ISO file since VirtualBox Guest Additions are pre-installed!
Study all installed packages in ArchEX 2022 with Deepin/GNOME 42/Gnome Classic/LXQt/LXDE.

BENEFITS of ArchEX/Arch Linux
"Cutting Edge"-software and speed. You will for example always run the latest kernel if you upgrade ArchEX/Arch (for example) every month.  You can very easy install ArchEX to hard drive in any language using Calamares Installer. Also in VirtualBox/VMware without any hassle.

Screenshots
ArchEX Deepin Desktop
ArchEX GNOME 42 Desktop
ArchEX LXQt Desktop
ArchEX LXDE Desktop
ArchEX Gnome Classic Desktop
ArchEX Deepin full Desktop running in VMware

Read about my Android-x86 Systems – 11; 10, Pie, Oreo, Nougat, Marshmallow, Lollipop and KitKat at

andex.exton.net – latest is AndEX 11 (with GAPPS), AndEX 10 (with GAPPS) and AndEX Pie 9.0 (also with GAPPS)!

and
about my Android 12, 11, 10, Pie, Oreo, Nougat, Marshmallow and Lollipop versions for Raspberry Pi 4 and 3/2 at

raspex.exton.se – latest is RaspAnd 12 (without GAPPS), RaspAnd 11 (with GAPPS) and RaspAnd Oreo 8.1 (also with GAPPS)!