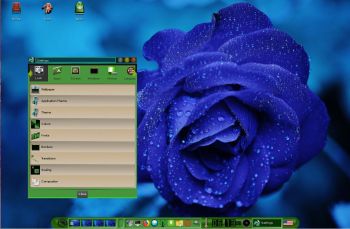 NEWS 190202 ABOUT ExLight
I've made a new version of ExLight with the Enlightenment 0.22.4-2 Desktop environment and Calamares 3.2.3-2 Installer Framework .
New sources 190202
This new version of ExLight is based on Debian testing. I.e. cutting edge software is used. Build 190202 is a total rebuild of ExLight. The ISO file size has decreased from 1560 MB to 944 MB, which means that ExLight now can run even faster from RAM. I.e. load to RAM – screenshot.
KERNEL
ExLight Build 190202 uses kernel 5.0.0-rc4-exton, corresponding Kernel.org's latest kernel 5.0-rc4.
MOVIE about Calamares Installer
Watch a movie about the Calamares installation process in VirtualBox. You can use the Calamares 3.2.3-2 Installer Framework to install ExLight to your computer in any language. You can even use Calamares in VirtualBox and VMware – i.e. non-efi computers. Watch this animated GIF. (It's for DebEX Budgie, but works in the same way in ExLight).
THE REAL McCoy
ExLight is a pure Debian system. I.e. no traces of Ubuntu, Kubuntu etc. New releases of Ubuntu are always based on Debian testing/unstable. So is ExLight.
SCREENSHOTS
1. The Enlightenment 0.22.4-2 Desktop
2. The Login Screen – LightDM.
3. The Enlightenment Desktop 2
4. Calamares Installer has finished